Spring is here and the Daffodils are Blooming.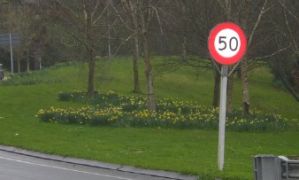 Arbor Day 1998 marked the planting of Daffodils around the town. With support from Council and Tree Trust Volunteers a number of areas were planted out around town at this time. Hamilton Road on the main approach to Cambridge (left) and the eastern approaches to the town, by the Karapiro Stream Bridge.
Other plantings have been made from time to time, as CTT members go around the town and find a suitable place for bulbs. There are on-going problems with mowing, but the daffodils seem to survive.