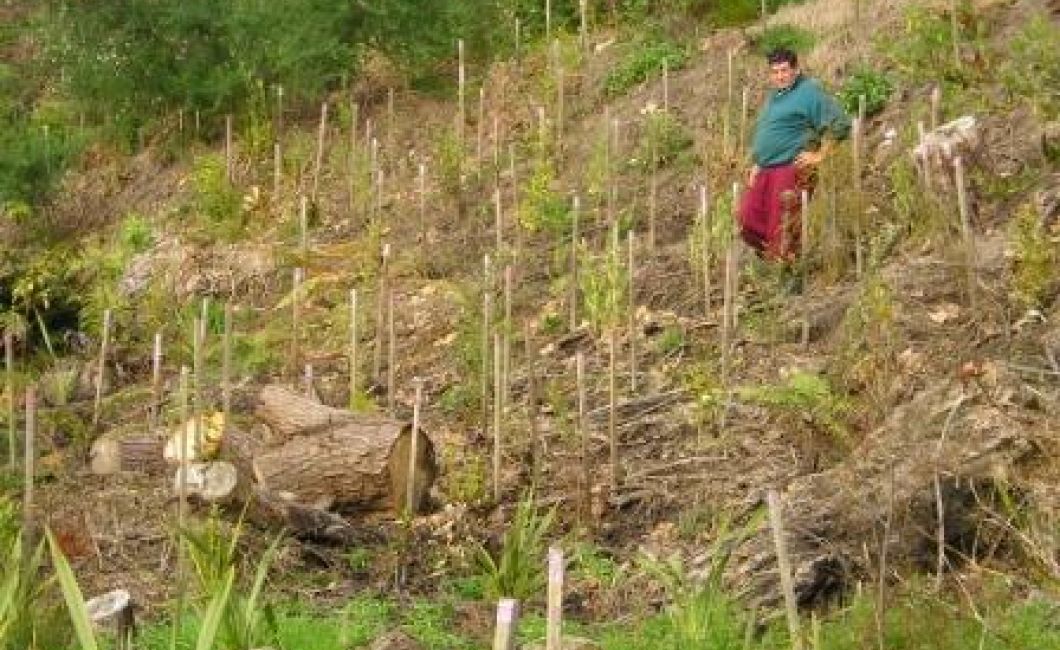 Brian and I were on St Peters School Staff together – he was a groundsman and I was HOD Geography. A glasshouse where Brian used to pot seeds, cuttings etc backed on to the Geography room and there was a link door which he would poke his head around and pull faces as I taught. Luckily students never saw him. He had a devilish sense of humour and was always playing jokes.
Picture this: A tractor tore across the field. Blackie pulled up outside my room, leapt down and burst through door "Don, Ruapehu is erupting" and what topic was I teaching? Volcanism in NZ. So we sat on a bank and watched as Blackie regaled the class with stories of the volcanic activity in NZ. Blackie's knowledge of the natural environment of the Waikato was huge.
In 1992 when the Cambridge Tree Trust was formed he was a foundation member.
He involved me early on in the planning of the 7km Leamington Walkway and together we made a submission to the Community Board and that was his first major project. The floating boardwalk through the wetland was the sort of project he loved.

In the nineties Rae and I joined Blackie and CTT members in a number of public daffodil planting sessions and I do remember helping planting some quite distinctive specimen trees in Payne park one winter with him. They were dogwoods. He was great at sourcing unusual and unique trees to plant as specimens around Cambridge. He was anxious to continue the tradition of Cambridge as a Town of Trees .
Blackie lived on Maungakawa Hill for 15 years with his wife Pam and planted many rewarewas which attract tuis. He planted hundreds of daffodil bulbs there to identify the outline of the historic TB sanitorium that used to be there. With Pam he was engaged in researching the history of Sanitorium Hill from Maori times to the present day and this material is now held by the family waiting to be written up.
TRACKS and TREES sum up his outstanding work as a volunteer. Blackie did things his way and he was especially famous for his track formation using chutes made of sheets of corrugated iron to get pieces of concrete footpath, concrete posts, pipes and timber down to the riverside where he built the Settlers Track. He was a great recycler of materials. With the assistance of Corrections Department teams, many tracks were built, like Soldiers, Poets, Anns' Track and the Steel Way. His ability to source track material around Cambridge at no cost was legendary. He had an eagle eye for waste he could recycle.
His work with CD teams was massive and often he did five days a week around Cambridge. His rapport with these teams was amazing and he always had a soft spot for the underdog.
During his 22 years with the CTT, many as Chairman,he promoted the educational role of the CTT and was passionate that young people learned of the importance of trees to the local environment. He established links with Cambridge High School science classes. For a number of years every, Year 9 classes came to the nursery and were lectured by Blackie on our work and the importance of trees and then they loaded the CTT truck and went out and planted. A day we will never forget was when all classes at Cambridge East Primary School marched down to Oaklands and were addressed from the back of the truck by Blackie and then went with a CTT member and planted 5-6 trees each. 700 trees in less than an hour. Whew!!!!
Blackie had a major wish which was to make more of Lake Te Ko Utu and his work on the Guide Hall bank and around the Flowform over the last few years with CD help has been outstanding.
When we took his coffin to the top of Sanitorium Hill on the CTT truck, he was surrounded by ferns which he had collected on his Sunday drives with Pam. Many Tuesdays there would 3-4 buckets of young seedlings he had gathered on some back country road in the Waikato for us to pot on. He was a superb plant gatherer.
The CTT has been involved in many major riverside projects under Blackie's leadership. Those in recent years have been River View, Middle Terrace, Lola Silcock Park and the Meadow Walk.
We estimate that by the end of last year some 110,000 plants have been put in the ground around Cambridge by the CTT that Blackie has led and inspired. Last year we planted 9,700. A promise to Blackie we will crack 10,000 this year just for him.
His laughter, jokes, stories at Tuesday morning teas will be sorely missed but boy has this guy left a proud legacy around town. He was an ideas man with strong views as many WDC staff found. Community Board meetings may be a little quieter without the passionate presentations of an idea that Blackie thought should be pursued. He was always thinking up new ways of making Cambridge a better place in terms of its natural environment.
Last Tuesday saw Blackie beavering away with the rest of our regular team down at Lola Silock Park. He sprayed, weeded and planted and kept saying to me may I make a suggestion Don and would proceed to tell me what he still wanted the CTT to do down there. I wrote down these ideas and CTT promises Blackie that they will happen and we will plant a persimon and a plum there for you this winter and call it Blackie's corner.
Thanks for your lively company, good arguments and passion for the environment. You have certainly left a legacy. By your Tracks and Trees you have left this earth a better place.
Don Willoughby
Chairman
Cambridge Tree Trust