Plant Pests
Wanted ! Dead, not alive.
Watch out for unwelcome weeds at your place this Spring. These plants (and others) have been identified as 'plant pests' in Environment Waikato's new Regional Pest Management Strategy. Every pest in the Region is in one of four categories based on its effects, distribution, density and control methods currently available. Four "nasties" below are "eradication pests" because they have limited distributions. Environment Waikato will fund and directly control these plants with the aim to completely clear them from the Region. The others are all well established in the Waikato, so they're in a containment category. The aim is to prevent these pests spreading to new areas and stop adverse effects they may cause. Land occupiers are required to control most 'containment pests' across their entire property, with some exceptions.
Here's a photo of a disease we've been asked to watch for. It's bad news in Australia and we don't want it here. Spores may well blow across the Tasman in a good breeze.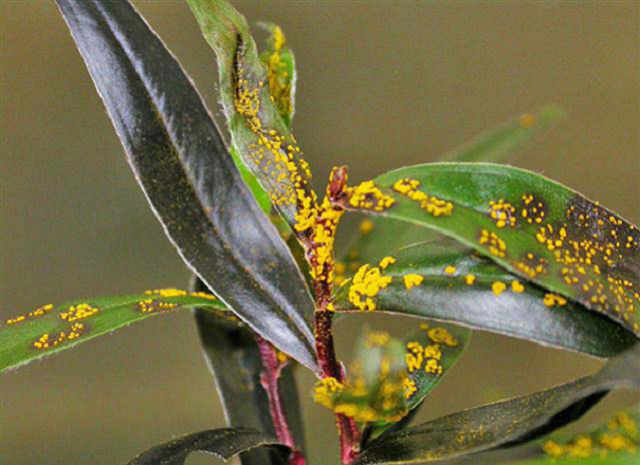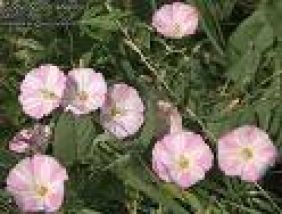 Often referred to as Convolvulus, the plant is a sprawling deciduous perennial vine up to 3m or more.
Stems similar to runner beans.
Extensive rhizome system.
Flowering from October to May they are large and trumpet shaped up to 8cm in diameter. The flowers are white, pink or blue, or a pink and blue combination.
The leaves are arrowhead shaped up to 14cm long by 9cm wide.
Pink Bindweed (Calystegia sepium) produces pink flowers.
It is spread by vegetative means and garden waste, and lives in gardens, waste areas and along fences.

Climbing Dock is a Low climbing or scrambling herb.
Tuberous woody rootstock, stems to 3 m long.
Arrow-head shaped leaves 30-80 x 20-60 mm.
Spikes of small, attractive yellow-pink flowers
Nov-Mar are very distinctive.
Is found in Coastal areas, road and railway verges, waste lands, near hedges and settled areas.
Common and widespread, and develops into a smothering mass among native plants. It has persistent tubers and creeping rooting stems. Broken roots re-sprout. The wind will disperse the seed.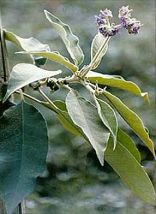 Woolly Nightshage is an aggressive a quick-growing shrub or tree, up to 9 m.
Dense stands can invade pasture on poor soils, especially in hill country, impede livestock movement.
May cause skin irritation, respiratory problems in humans, plants toxic to livestock.
Can rapidly invade forest margins, totally excluding regeneration of native species.
Now well established in many areas north of Taupo. Most dense infestations in Port Waikato, Coromandel Peninsula.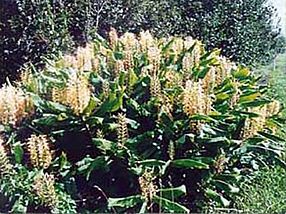 Kahili ginger
lemon yellow flowers, red stamens seen late Summer, early Autumn.
Kahili ginger is spread by birds, new infestations of both species often caused by illegally dumped garden waste.
Yellow ginger
cream coloured flowers, late Autumn, early Winter.
Wild ginger can form dense colonies, smothering young native plants, preventing seedling growth.
Largest infestations on the Coromandel, and west coast between Raglan and Mokau.