Lake Te Ko Utu in the centre of Cambridge has 5 different tracks leading down to it from street level.
(number 5 on the inset map)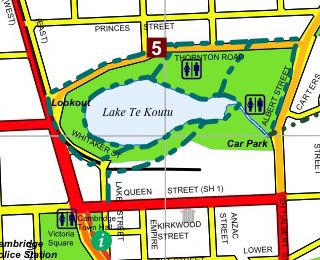 These walks are completely different from those described earlier in our list. Here we're into groomed grass and picnic areas. Parking, a barbeque and toilets are available at its eastern end off Albert St.
Control of drainage and water levels is problematic, and there appears to be a struggle for living space between eels and ducks in the park.
A Cedar of Lebanon was planted in the garden in 2008 as part of a world-wide acknowledgement of the trauma inflicted on Lebanon by recent wars.
Click here for Lake Te Ko Utu photo gallery.
Above the south-west side of the park is a Camellia Walk developed by the Tree Trust.

View Camelia Walk in a larger map
In memory of Brian Mayo, a seat has been placed at the top of the north-east bank overlooking the lake.
Blackie spent many hours working on the bank below the seat; so many that we commonly refer to it as Blackie's Bank. The seat is behind the Girl Guide's hut, through a fence beside the tennis courts.
Replanting the bank after the old gum trees were removed is a big job.
Here are some helpers on Arbor Day 2014.
We've had a lot of help from the public, in particular, the Chamber of Commerce's First Fifteen group. Here's a video of the early replanting work, this time from 2015.