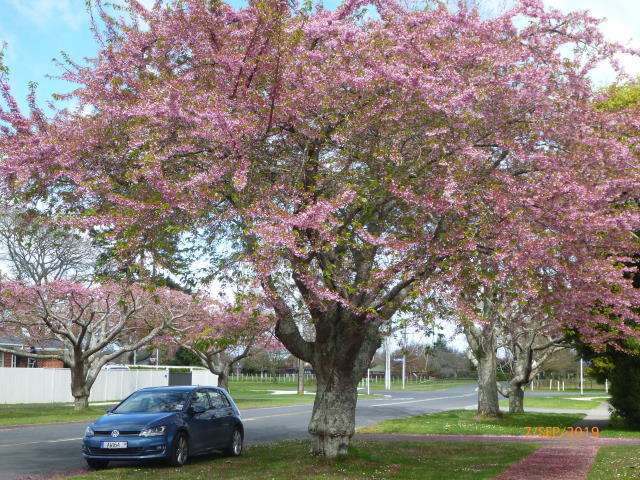 Japanese ornamental cherry (Prunus species unknown, or Sakura)
Marking the start of spring, this is one of many flowering cherries that line the far end of Shakespeare St, and just one of the hundreds of native Japanese species and hybrids whose flowers range from white to deep crimson. In Japan the transience of the exquisite cherry blossom is understood to heighten appreciation of its splendour, and this resonates with the Buddhist idea of thriving in the present moment, and the graceful acceptance of destiny and death. In Japan hanami, or the 'pursuit of viewing and picnicking under cherry blossom', goes back more than 1000 years; once a purely aristocratic diversion, it has become popularised in the last two or three centuries, and is now a form of mass social bonding. There are daily media reports on the cherry blossom front (sakura zensen) as it travels northwards up the country, and these records are now being used to track climate change. The very pale pink, almond-scented yoshino cherry is so intertwined with Japanese identity that it is used as a rallying cry for Japanese nationalism. The first kamikaze unit had a sub-unit called Yamazakura, (wild cherry blossom), comparing the warriors to blossom, 'born to live brilliantly and die young.' (Around the World in 80 Trees) The government encouraged people to believe that the souls of pilots were reincarnated in blossom. Imperial Japanese often planted cherry trees as a way of claiming occupied territory.
In the West the Japanese cherry was hardly known until the early twentieth century when it was popularised by Captain Collingwood Ingram. He even reintroduced the magnificent, spreading white-flowered cherry, tai haku, back to Japan. Shown a specimen in Sussex in 1923, on his next visit to Japan he recognised this cherry in an 18th century book of flower paintings, and was told that it had been lost to cultivation there. All 'great white' cherries in cultivation today are the offspring of this English tree.