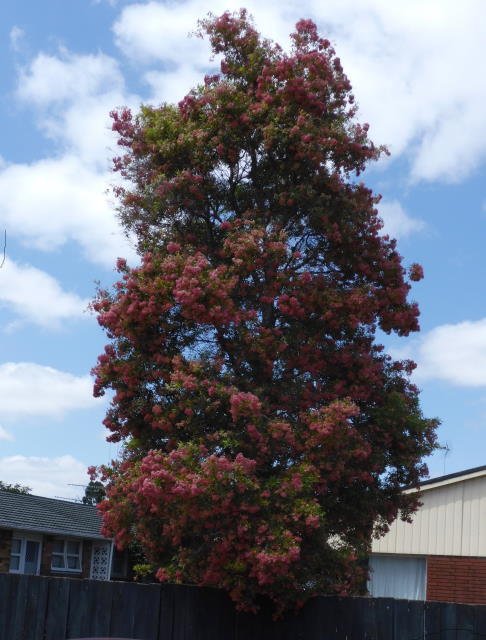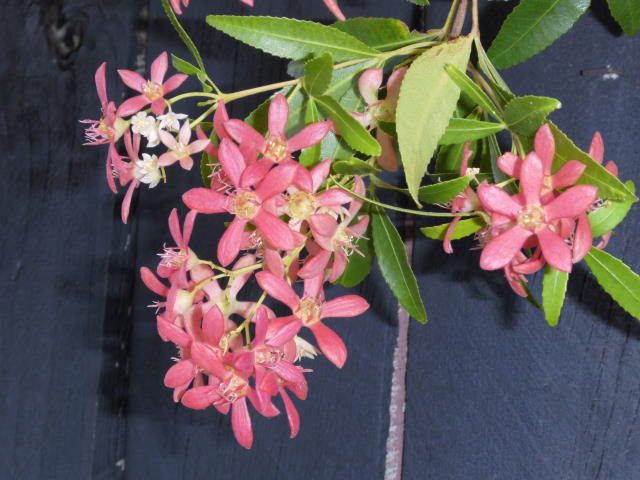 New South Wales Christmas Bush (Ceratopetalum gummiferum)
Growing in a garden in Hamilton Road, this small tree had me mystified. Tolerant of -2 degrees of frost, it is a native of Papua New Guinea and eastern Australia, where it grows to 12 metres in height – so not really a bush. It is usually found growing in sandstone or old sand dunes, as it enjoys a well-drained soil. It was first described to the western world by the English botanist, James Edward Smith in A Specimen of the Botany of New Holland (1793). The leaves are tri-foliate, each leaflet being about 5-8 cm long and 0.5 cm wide. In late spring it is covered in sprays of tiny, white, five-petalled flowers (some of which can be seen in the photo), but these often go unnoticed until they begin to die and the sepals then enlarge and become pink in colour. This display peaks at Christmas in Australia, perhaps a little later in New Zealand. These pink sprays will last in water for weeks.
The leaves contain aesculin, a coumarin glucoside (also found in certain chestnut trees) which is sometimes used in the treatment of lupus, and also as an ultra-violet radiation screen in suntan lotion. It is used as a fragrance in some skin care and bath products, with a scent reminiscent of freshly-mown hay.