This short stretch serves as a handy link between Lake Te Ko Utu and Karapiro Stream.
(number 6 on inset map)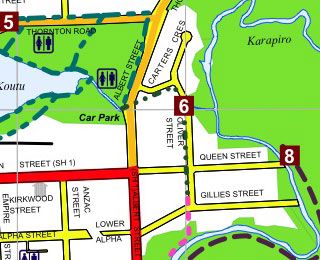 This short walk runs from Lake Te Ko Utu car park on Albert Street, down Carters Crescent, and into Oliver Street, following the formed footpaths. The path joins Ann's Track behind Wackrows Joinery opposite Mitre 10 on Gillies Avenue.
If you continue along Queen Street, you will find that at the end of the street, there is a good view over the Karapiro Stream. At least, it will be a good view when the Council has finished with it. It's pretty rough at the moment. (March 2014)