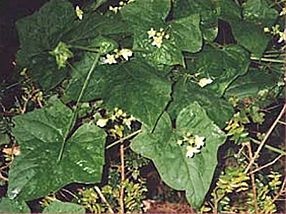 White Byrony is a perennial vine, can reach 6 m.
Leaves similar to cucumber plant.
Toxic to livestock and humans.
Potential to cause substantial environmental damage in New Zealand, similar to old man's beard.
Can smother small trees and shrubs, and exclude other species.
Dense growth may also impede recreational access.
Easily dispersed, difficult to kill due to its large persistent tuber.
Found at locations in the King Country, although not common in the Cambridge area. Environment Waikato does all the control work for these weeds and if anyone suspects they have these weeds, or they have seen them anywhere, please notify them on 0800 BIOSECURITY.(24673287489)