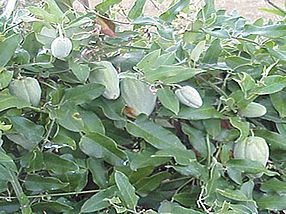 Moth Plant is a fast-growing climber, winds around host plants, choking and smothering.
Poisonous seeds mainly wind borne, released by choko-like fruits as they dry out and split.
Wear gloves; milky-white sap causes skin irritation.
Still limited in the Waikato but potential to become one of the Region's most serious ecological weeds. Currently highest ranking weed in Auckland region.
Its sole virtue is that it can be harvested and fed to monarch butterfly caterpillars. They don't do as well on it as they do on swan plant, but most chrysalyses hatch fairly well.