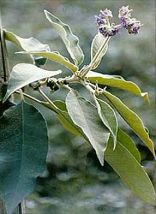 Woolly Nightshage is an aggressive a quick-growing shrub or tree, up to 9 m.
Dense stands can invade pasture on poor soils, especially in hill country, impede livestock movement.
May cause skin irritation, respiratory problems in humans, plants toxic to livestock.
Can rapidly invade forest margins, totally excluding regeneration of native species.
Now well established in many areas north of Taupo. Most dense infestations in Port Waikato, Coromandel Peninsula.