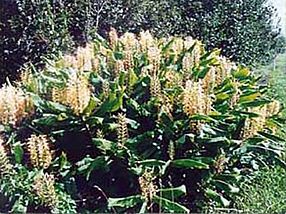 Kahili ginger
lemon yellow flowers, red stamens seen late Summer, early Autumn.
Kahili ginger is spread by birds, new infestations of both species often caused by illegally dumped garden waste.
Yellow ginger
cream coloured flowers, late Autumn, early Winter.
Wild ginger can form dense colonies, smothering young native plants, preventing seedling growth.
Largest infestations on the Coromandel, and west coast between Raglan and Mokau.