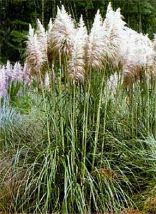 Common Pampus is erect, tall tussock-forming perennial grasses.
Pampas doesn't flower until summer.
Both pampas species very invasive, forming dense impenetrable stands.
Seeds reach distant open places quickly and can blanket areas with very rapid exclusive growth.
Pampas also suppresses regeneration of native bush.
Pampas often confused with native toetoe.